Staff
Physical therapists (sometimes abbreviated to PTs) are health care professionals primarily concerned with the remediation of impairments and disabilities and the promotion of mobility, functional ability, quality of life and movement potential through examination, evaluation, diagnosis and physical intervention. Core Physical Therapy hires only the most skilled and dedicated professionals that will work with their patients to ensure the highest level of quality care.
---
The Loop – 79 W Monroe St #919 | Chicago, IL 60603
---
---
West Loop – 954 W. Washington, Suite 505 | Chicago, IL 60607
---
---
Lincoln Park – 561 W Diversey Pkwy #213 | Chicago, IL 60614
---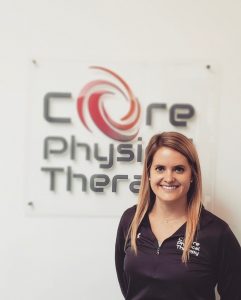 Amy Fetch, PT, DPT – Physical Therapist/Clinic Manager
Practicing since August 2014
Amy earned her Doctorate of Physical Therapy Degree in May of 2014 from Mayo Clinic in Rochester, Minnesota. Prior to attending physical therapy school Amy graduated from Augustana College in Rock Island, IL with a liberal arts degree in both biology and psychology. While at Augustana Amy competed in track and field as a sprinter and hurdler. It was during this time she grew her interest in physical therapy, with personal experiences in physical rehabilitation, and developed a passion for health and wellness.
Amy prides herself on her advanced manual therapy skills and highly specialized and individualized evidence based treatments to safely return her patients back to an active and athletic lifestyle. She treats her patients holistically with the goal to address the primary cause of pain rather than simply treating the painful structures. She takes into consideration her patient's lifestyle, work and home environment, and level of physical activity in her plan of care, tailoring each patient's treatment to efficiently and effectively reach their specific goals. As an athlete she understands the importance of return to sport. Amy provides an individualized rehabilitation program to help each patient achieve their goals and stay on track for their next event- whether it be a marathon, paddle match, yoga, or playing catch in the backyard with their children. Amy also emphasizes a focus on educating her patients so that each patient feels confident and independent when graduating from physical therapy; that they understand their condition, and how to prevent or manage their pain/condition.
Amy enjoys working with a wide variety of patients: from the recreational athlete, to the professional athlete, to the retiree. She has specialized training in Women's Health and Pelvic Floor Therapy (learn more here!), running Video Gait Analysis, joint mobilization and manipulation, and dry needling.
Outside of work Amy enjoys living an active lifestyle running, hiking, and playing recreational sports. She enjoys traveling to new places with her husband, and exploring the great city of Chicago.
Continuing Education: Background in functional movements, Instrument Assisted Soft Tissue Mobilization, Women's Health and Pelvic Floor, When the feet hit the ground, and Examination of the Runner